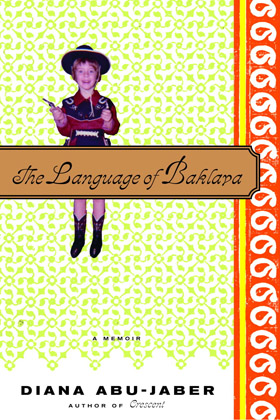 ---
Purchase:
---

---

The Language of Baklava
A Memoir, 2005, 352 pages
Reviews
"In a culinary memoir that's as delectable for its stories as for its accompanying recipes, Diana Abu-Jaber concocts a feast of words and images from her Arab-American experience. Whether she's freezing on her family's front lawn in upstate New York as they grill kebabs to celebrate the first warmish day of the year, or battling with her father over his banishment of a suitor ("Why didn't you just lock me into some prison in Jordan when you had the chance?" His response: "I wanted to!"), Abu-Jaber recounts a textured immigrant tale filled with heartfelt dishes (e.g., "Subsistence Tabbouleh: For when everything is falling apart and there's no time to cook"). Rich, dense, and flavorful, The Language of Baklava is best savored in small bites."
—Entertainment Weekly
"In The Language of Baklava, novelist Diana Abu-Jaber revels in the stories her father told her while she was growing up, which centered on cooking and eating but "turned out to be about something much larger: grace, difference, faith, love"; the same qualities that inform this passionate memoir (with recipes!), which follows her "Bedouin" family from New York to Jordan and back."
—Elle
"Truly charming…A fascinating memoir of confused exile, great food, and home truths."
—O, The Oprah Magazine
"Wonderful, touching and funny…Honest and precise…Abu-Jaber explores [her cultural] duality with a generous spirit and clear-eyed vision… lush and lyrical memoir."
—The Miami Herald
"If you look for memoirs in the bookstore, you'll usually find them classified under nonfiction. But who other than obsessive diary-keepers or politicians with secretaries can accurately reconstruct conversations or events from 20 or 30 years ago? Perhaps successful memoirists just have phenomenal memories. But more likely they have the gift to turn their life experiences into narrative that feels so deeply, resoundingly true that readers are willing to believe every word. That's certainly the case for Diana Abu-Jaber's new memoir, The Language of Baklava.
Abu-Jaber, who teaches creative writing at Portland State University, has woven her bicultural upbringing into a vivid tale starring her Jordanian immigrant father, Bud. A tender, mercurial family despot, Bud recreated his homeland in his upstate New York kitchen, cooking an endless array of dishes like lamb shanks in buttermilk, okra braised with garlic, and chicken with pine nuts and sumac. Her schoolteacher mother, an American of Irish-German heritage, provides a rooted balance to Dad's flamboyance, and an endless cast of Jordanian relatives adds an almost surreal note to this absorbing tale of a first-generation American girlhood.
In The Language of Baklava…the author has found a way to blend the filigreed, dreamy storytelling of the Middle East and the razor-sharp Western-world detail that makes a story vivid and memorable. The reader will feast."
—Willamette Week (Portland, OR)
"Incredibly powerfulæThe world described is so strange and sumptuous, the characters so large and comedic, and the descriptions of the food so enveloping and mouthwatering that you want to climb into this world and make it your own."
—The Oregonian
"In her much-acclaimed second novel, Crescent, Diana Abu-Jaber tempted the readers with flavors and fragrances of Middle Eastern food. Her heroine worked as a chef in a Lebanese restaurant in Los Angeles, preparing meals for patrons who formed a social support network around her.
Anyone who reads her third book, a memoir, will probably conclude that this wasn't entirely a coincidence. In The Language of Baklava, Abu-Jaber reveals the source of her culinary wisdom: a father who is an avid cook and an extended family obsessed with food and celebrations.
Feasts and celebrations play a huge role, but this exquisite memoir offers much more to the discerning reader. With humor and grace, the author explores timeless topics of love, cultural adjustments and what being rootless means.
[T]he author takes us on an insightful journey through many emotional and physical landscapes, a journey we ought not to miss. She even offers us recipes at the end of each chapter.
We echo Abu-Jaber's sentiment when she says, "Why must there be only one home!…The fruits and vegetables, the dishes and the music and the light and the trees of all these places have grown into me, drawing me away. And so I go. Into the world, away."
—Seattle Times
Mailing List
Sign up to receive occasional e-mail updates from Diana.
(Your e-mail address will never be shared with anyone else.)