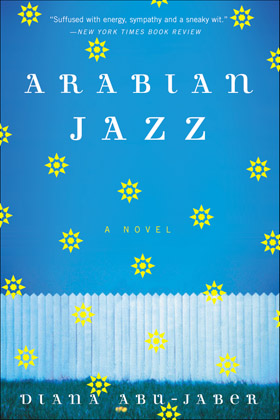 ---
Buy A Copy Online:
---

---

Arabian Jazz
A Novel, 2003, 374 pages
Synopsis
In her first novel novel, Diana Abu-Jaber strikes a balance-a balance between two radically distinct cultures, between self-determination and obligation, between past and future, between hilarity and heartbreak.
The setting: a small, poor-white community in upstate New York. Enter the transplanted Jordanian family of Matussem Ramoud; his grown daughters, Jemorah and Melvina; his sister Fatima; and her husband, Zaeed. The widower Matuseem loves American jazz, kitschy lawn ornaments, and, of course, his daughters. Fatima is obsessed with seeing her nieces married—Jemorah is nearly thirty! Supernurse Melvina is firmly committed to her work, but Jemorah is ambivalent about her identity and role. Is she Arab? Is she American? Should she marry and, if so, whom?
Arabian Jazz won the Oregon Book Award and was a finalist for the National PEN/Hemingway Award.
Mailing List
Sign up to receive occasional e-mail updates from Diana.
(Your e-mail address will never be shared with anyone else.)
Would you like to be removed from the list? Click here to unsubscribe.